Hello! The names Storm! Storm Sensoji! OK well yeah you get the point. Anyway, I'm stormspirit1000 from Youtube! I'm a HUGE Pokefan, I'm Homestuck and I love Warrior Cats! I usually get lazy and forget to upload stuff here but my Youtube always has something up. Yeah.
Get a FREE visitor map for your site!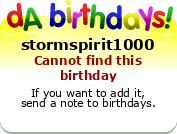 My star sign is Cancer, which is awsome because my favourite Homestuck troll is Karkat and Kankri is my second favourite pre-scratch. I'm better at drawing animals than people but I'm getting better. I love drawing art for other people because I like accpeting a challenge and it's fun drawing different characters!
"NOW I LAY ME DOWN TO SLEEP
THE MASTER OF DREAMS
MY SOUL I'LL KEEP
IN THE REFLECTION OF MY MINDS EYE
EVIL WILL SEE ITSELF
AND IT SHALL DIE"
Personality test results:
Death Note: L
Howl's Moving Castle: Turnip Head
Pokemon Villians: N
Ouran Highschool Host Club: Tamaki
PMD Red Rescue Team: Eevee
PMD Explorers T/D/S: Chimchar
Digimon: Hawkmon
Dog breeds: Labrador Retreiver
Music genre: Rock
Homestuck troll: Karkat
The Lion King: Timon
Warrior Cats Villians: Scourge
Warrior Cats Leaders: Onestar
Monster: Werewolf
Homestuck Pre Scratch: Kankri
Homestuck blood type: Red
Homestuck kids: Rose
Homestuck God Tier: Heir of Time
Homestuck Dreamer: Prospit
Homestuck Matesprit: Karkat (ironic isn't it?)
Homestuck Kismesis: Equius
Cirque du Freak: Mr. Crespley
Ghost Hunt: Naru (HELL YEAH!)
Adventure Time: Marceline (AW YEA!)
Okami: Amaterasu (I've taken multiple tests but I don't believe it!)
Wicked: Elphaba (I can actually see why for once!

)
Favourite genre of music: Rock
Favourite style of art: Anime!
MP3 player of choice: uh... my iPod.
Favourite cartoon character: OMG I dunno! I luv a lot of charcters!
Personal Quote: I talk to myself because I'm the only interesting person within a 5 mile radius.